I have been using your wonderful app for almost three years, listening to your podcasts, and I've read both of your books. Because of you and your work, I meditate daily and have the most amazing crew of teachers at my fingertips. You have probably done more to make Vipassana/Mindfulness accessible to an entire nation than any one person in a long time.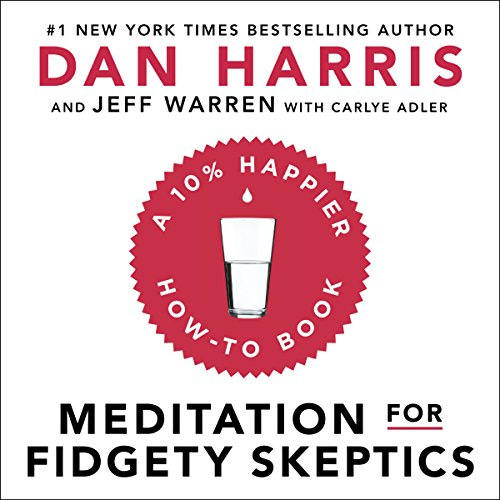 For the entire time that I have been using the Ten Percent Happier app, I have often felt distressed by the many discussions of sugar (in all its forms), sugar addicts, and how to attempt to live without sugar. A while ago, on one of your weekly challenges, your guest suggested using behavior modification as a way to create distance from sugar intake. I remember thinking that as knowledgeable as this person is, she didn't know or understand the definition of addiction. Yet, they seem to understand alcoholism and drug addiction. I'm quite sure that this same person would not suggest treating alcoholism by having one beer a day. The other day I heard Jeff W. talk about chocolate as if it were the same as getting a splinter (my words, not his). Maybe for him, it is. A small annoyance but not much more than that. Also, maybe for him, a small taste of chocolate is a genuine pleasure. I want to make clear that I know that no one on your show thinks of themselves as the one true answer or that they are "recommending" a certain kind of treatment. I am talking about the chatter, the back and forth of questions and answers, and the inadvertent throwing in of a substance, that in a listener's mind, could be the same as permission if they just meditated enough.
These smart, educated people still seem to think that letting go of sugar has something to do with willpower. Yet, in all this time, I've never once heard anyone on Ten Percent refer to a glass of wine (straight sugar), a beer (grains), an oxycontin, or marijuana in the same way as they talk about sugar. There is respect for the danger that those substances have on a whole group of people that you don't seem to have for sugar. Just as you have a substantial group of listeners who are recovering from alcoholism, you also have a substantial group of people who are recovering from sugar and food addiction. I am speaking for this group of people.
I, personally, have not had sugar or grains in fifteen years. When I hear Jeff or Dan talk about chocolate, I wince but I'm not tempted to kill myself. Then I think of other people newly off sugar, listening to people who they consider experts talk about sugar as if it weren't a life and death deal, as if you can let go one day, binge, and go right back to abstaining the next day. Back in the 1980s, I went to a one-day retreat with Jack Kornfield at Spirit Rock. One of the things we did that day was mindful eating. He had us put one raisin in our mouth and chew as slowly as possible. Many people got a great deal of pleasure out of this. Me, newly abstaining from sugar and hoping against hope that I wasn't a sugar addict?, well it set off months of obsessive sugar thinking and binging. None of us knew any better at the time. But we do now. Jack would never have asked us to savor wine in our mouths without at least a warning that this is not appropriate for alcoholics. But I suspect, knowing Jack, he wouldn't even take that chance. No one would. We know too much about alcoholism. Now we know about sugar addiction.
I'm not suggesting that everyone who listens to your podcasts and meditations reacts to sugar the way I do. Any more than all listeners of your show are alcoholics. Yet, you seem to respect that talking about alcohol in less than a serious way could easily trigger and harm a substantial group of your listeners, so you don't do it.
I think you need to consider the impact that you have on your listeners when you talk about sugar. Sugar and grains are the same ingredients that are in alcohol. Why wouldn't you give sugar the same respect you give liquid sugar and grains?
Dear Dan Harris et al, there are a ton of us out in the listening world who love you and what you are doing with Ten Percent; that you have expanded from the basics of meditation, to the teachings of Buddhist concepts, to offerings of western psychology. Why don't you talk to us, the experts on sugar addiction? We are sugar addicts in recovery. We aren't guessing, we aren't opinionating, and we aren't putting forth possible behavioral solutions unless we have personal experience. We've been to hell and we've come back. Many of us use the combination of twelve steps, meditation, and therapy to NEVER forget where we've been and could easily go back to.
Please give sugar, all that white stuff, grains, liquid and hard ingredients of alcohol, the respect it deserves. As you, Dan Harris, have said many times, "sugar is poison". When was the last time you had to use behavior modification to convince someone that it is not healthy to put cyanide in their tea?
Just askin'
With gratitude for your app and how you have devoted your life to our betterment. Can you take the next step? I realize this is just my opinion but having lived with food and sugar addiction for all of my life, I do feel strongly about it.
Thank you for reading,
Sara Somers
Author: Saving Sara; A Memoir of Food Addition (SheWritesPress 2020). Psychotherapist in California for thirty-five years before moving to Paris.
Food Junkies Podcast: 
and many other interviews I'd be happy to provide if interested.
sarasomers.substack.com Out My Window: My Life in Paris
Thanks for reading Out My Window! Subscribe for free to receive new posts and support my work.