Thank you to all of you who replied to my blog of last week. Basically I was told that the view my writing group was inadvertently giving me was not accurate. In fact, some of you are scared–the mask rule has been relaxed, no social distancing. My sister, who has the ability that my father had–to take in the larger picture and make a fairly accurate assessment–wrote: "Michigan is about the scariest place in the country right now; your last blog really, really romanticises what's going on in the U.S.  You're making the mistake of generalizing from a few anecdotal stories from your friends–basic social science error!!!!!  The result doesn't read authentically or match people's experiences here.Which isn't to say that you're not being authentic; it's just you need to be more careful with your comparisons." This is one of the reasons I love her. I can absolutely depend that she will tell me the truth. So, this week, I am not going to talk about the Pandemic or vaccines. Rather I want to talk about the way each one of us has found to self-entertain during these non-ending times.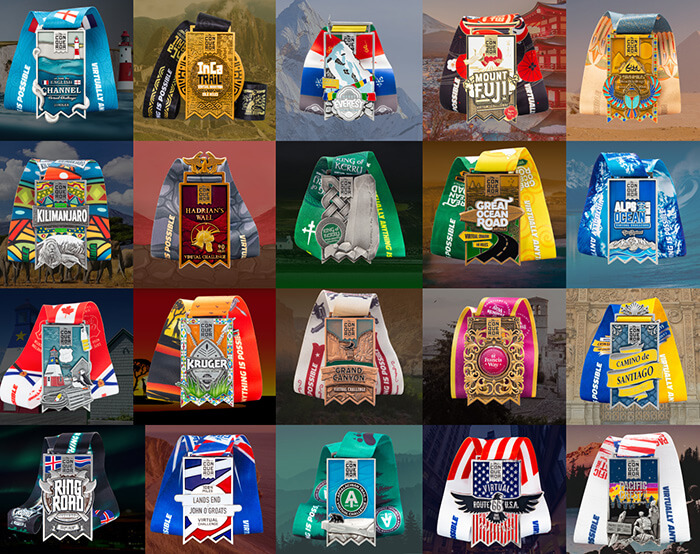 MAKE EVERY MILE COUNT! You're no longer just going for a run, a walk, a ride, or a swim, you're working towards conquering a S.M.A.R.T fitness goal. VIEW ALL THE CHALLENGES
I enjoy entertaining myself and I'm easily pleased. I just have to watch Bijou run around in circles chasing her tail, falling all over herself, and I am in gales of laughter. I have discovered something else that I find so much fun. There is an App called The Conqueror. It is run by My Virtual Mission. I don't know how I discovered it but it happened during the first week of January. I picked a real walk somewhere in the world and signed up to have my Fitbit talk to the app and record all the miles I walk. I was sent postcards by e-mail telling me where I was, describing the village and giving me some history. For every 20% of the walk I finished, a tree was planted. The website says, "We will donate toward the planting of a tree for every 20% of the challenge you complete. There's no extra work or cost for you — just make sure you keep exercising! By the end of the challenge, you will have planted 5 trees. Imagine what we can achieve as a community! So far we have planted more than 450,000 trees since August 2020."
I picked Hadrian's Wall for my first walk-90 miles. I was also to pick an amount of time that I would do the walk in and I put 8 weeks. I had no idea how motivated I would be. As it turned out, I finished the walk in less than five weeks! About a week later, a gorgeous medal arrived in the mail. No photo on the website showed how really handsome and substantial the medal is! For my next walk, I picked The Ring of Kerry, a walk of 124.5 miles in Ireland. Again I received postcards, had trees planted, finished in five weeks, and now my medal is on its way. Last week I picked St. Francis Way which, like the others, is a real walk of 312.4 miles from Florence to Rome. This is more than twice as long as the Ring of Kerry. I am hoping to do this in 12 weeks.
I have always been competitive and not always in a good way. I learned awhile ago that competing against one's self is a good thing. Every morning, I check what my FitBit told the Conqueror app. I wouldn't dream of not walking every day (well, I do take a day off once in awhile for various reasons) and, according to the app, I have walked 250.9 miles since I first signed up on January 8th. Here I am, in my apartment in Paris which is in a third lockdown, and I have walked Hadrian's Wall, the Ring of Kerry, and am 11% thru the St. Francis Way! So if any of you are, like me, staying inside most of the time but walking every day, you may enjoy this great app that tells you you are doing great things, walking long distances, and sending you medals to prove it!!!
We all find different ways to entertain ourselves during hard times. At the beginning of the Pandemic, I was too cautious to go outside. I discovered Walk with Lesley Sansome, and watched her on my computer following along with all her in-house "friends". But I've never been a big fan of going to the gym. And, as soon as I screwed my courage up and started walking outside, Lesley Sansome went the way of a lot of my amusements. I love walking outside. I love walking. I've never thought of walking as exercise. I don't like exercise therefore walking can't be exercise (one of those philosophers that I studied in college would agree that my logic is correct!)
It also occurred to me about three weeks ago that every single one of the Oscar nominations, in almost every category, is available to stream. I've always tried to see as many of the nominated films as possible so that when the Oscars rolled around, I could make intelligent guesses. I also consider myself a huge film buff and the nominations from all the different festivals give me a great list of films I should have seen but didn't know about. This year it was never clear to me what was streamed and what was only available in a theatre.Not to mention that I hadn't heard of most of the streaming services..I mentioned a couple weeks that I'd seen Nomadland on Hulu. I discovered that Hulu will give anyone a free 30 day trial. So far I've seen, along with Nomadland, The Trial of the Chicago Seven, Mank, Promising Young Woman (had to rent on Amazon), and last night, I rented The Father (the fee is more than a movie would cost if theatres were open). Of the nominated films for best foreign film, I've seen Deux, from France and, from Denmark, Another Round (the director, Thomas Vinterburg is also up for best director). I have seen all the films in which an actress is nominated for best actress. I didn't make it through the US vs Billie Holiday. Andra Day is terrific, her voice sounds very much like Ms. Holiday's, but the film itself just isn't compelling–to me. Maybe next week, I will give you my opinion on who will will and who should win but today I just want you to know they are all available. They are all good and it's worth spending your time being entertained by an industry whose job it is to entertain you.
I finally watched Soul. I discovered that something I belong to also gives me Disney plus. Soul is nominated for best animation. I usually associate animated films with children or youth. Pixar has been coming out with terrific films-as much for adults as children. This one, starring the voices of Jamie Foxx and Tina Fey , is very much for adults. I'd watch it again if I didn't have a date with The Sound of Metal.
This is all to say that there are many fun things to do still in Lockdown. Many of us are genuinely fatigued by the last fourteen months but we are being advised everywhere to not let our caution down. It would be so easy to say 'F__ it, I'm finished. I'm going back to the way it was.' As I was writing, a notification popped up on my phone: over 3,000,000 million deaths around the world. I intend to not be one of those statistics.
A bientôt,
Sara